Recipes
To make smooth drinks, purees or sauces, crush your Sun Belle blackberries and strain out the seeds. When eaten whole or in baked recipes these seeds are unobtrusive, provide a pleasant crunch, and are loaded with fiber.
Sun Belle produce contains the flavor, fiber, vitamins and disease-fighting substances central to a family's diet. And it's easy to prepare — eaten fresh, added into salads, or used to flavor and enhance entrees, soups, and desserts. Stock your kitchen with fruits, vegetables and berries. There is no limit to their use!
---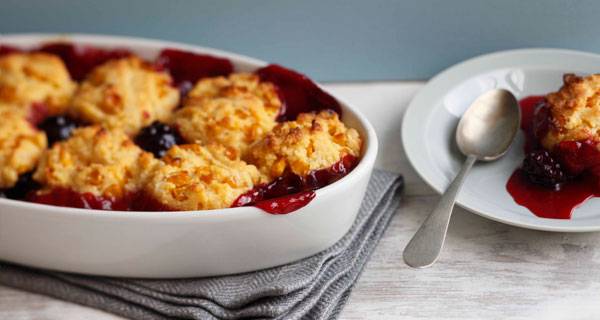 Blackberry Cobbler with Corn
Ingredients
SERVES 6
• 1 tablespoon cornstarch dissolved in 1 tablespoon water
• 1/2 cup sugar
• 1 tablespoon plus 1 teaspoon lemon juice
• Grated zest of one lemon
• 4 cups Sun Belle blackberries
• 1 cup unbleached flour
• 3/4 cup medium to coarse ground corn meal
• 1/4 teaspoon salt
• 2 teaspoons baking powder
• 1 egg yolk
• 1/2 cup milk
• 1/4 cup oil or melted butter
• 1/2 cup super sweet corn kernels (fresh, canned or frozen)
Instructions
1. Have all ingredients at room temperature.
2. reheat oven to 375 degrees
3. Mix cornstarch with 1/4 cup sugar, 1 tablespoon lemon juice and lemon zest. Toss in blackberries and transfer to a 9-inch shallow baking dish.
4. Whisk together flour, corn meal, baking powder and salt in one bowl. In second bowl whisk together 1 teaspoon lemon juice, egg yolk, milk, 1/4 cup sugar, oil or butter. Pour wet ingredients into dry and blend together with just a few strokes of the whisk. Stir in corn kernels to batter.
5. Spoon batter over blackberry mix to cover evenly.
6. Bake for 30-40 minutes – or until a toothpick comes out clean from the batter. Cool down but serve warm.
Tip: Substitute 4 cups of Sun Belle blueberries for the blackberries to make Blueberry Cobbler with Corn.
---
View More Recipes »
---