Recipes
Nothing says healthy dessert or nutritious snack more than a handful of blueberries packed in a school lunch. Blueberries can be blended in breakfast smoothies, tossed into fruit and lunch salads, used as desert toppings, stirred into savory sauces, and, of course, baked into muffins, pies, buckles, scones, crumbles, and cakes. A bowl of blueberries is always welcome at a potluck meal or on a dessert table.
---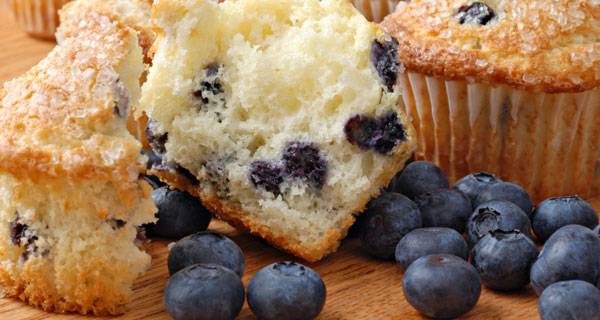 Blueberry Muffins
Ingredients
• 6 ounces Sun Belle Blueberries
• 1 2/3 cups unbleached flour
• 1 teaspoon baking powder
• 1/8 teaspoon salt
• 1/2 cup raw cane sugar
• 2 tablespoon raw sugar for topping
• 4 tablespoons unsalted butter
• 1 cup milk
• 1 egg
Instructions
1. Preheat oven to 350 degrees
2. Melt butter and mix with warm milk.
3. Whisk in egg.
4. Sift flour with baking powder and salt.
5. Stir in sugar.
6. Whisk liquid into dry ingredients using as few strokes of a whisk as possible.
7. Fold in blueberries so they are evenly distributed.
8. Pour batter into paper muffin liners placed in muffin pan to about 2/3 level.
9. Sprinkle top of each muffin with remaining sugar.
10. Bake for 45 minutes or until a toothpick comes out clean.
---
View More Recipes »
---